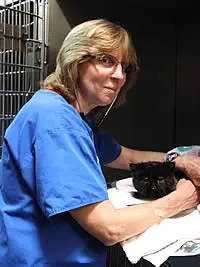 Tracie
Licensed Veterinary Technician
Tracie's grandfather used to raise giant chinchilla rabbits, and he let Tracie feed them when she was only five years old. This early experience with animal care helped inspire Tracie to work in the animal care field full time!
Tracie grew up in Rockland County, New York, and moved with her family to Cornwall at the age of five. During her teenage years, she helped train the family dogs in obedience classes, then started cat rescue. She worked with several cat shelters in Boston and New York State, eventually meeting Dr. Diana Cannan in 2001 at a cat shelter in Beacon. A year later, she came to work with Dr. Cannan at Dutchess County Animal Hospital. In 2008, Tracie graduated with honors from SUNY Ulster.
Tracie has a rescue cat named Billy, who likes to sit beside Tracie when she reads.
When she has time outside of work, Tracie likes yoga, cross fitness, researching history, and running. She's also an avid reader and loves going to the library.